MOVING BODIES ׀ EMPTY SPACES
An Exploration of Freedom through Dance Improvisation
An opportunity to engage with Kirstie and her passionate interest in the liberating experience of dance improvisation and the exploration of freedom. 
14.00 – 18.00
200 Euros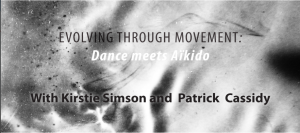 Co-teaching with Aikido Sensei Patrick Cassidy
The workshop is open to 13 Aikidokas and 13 dancers.
Please consider that you will need to be able move in and out of the floor with ease, so prohibitive injuries might be challenging to work with in this context.